Kitchens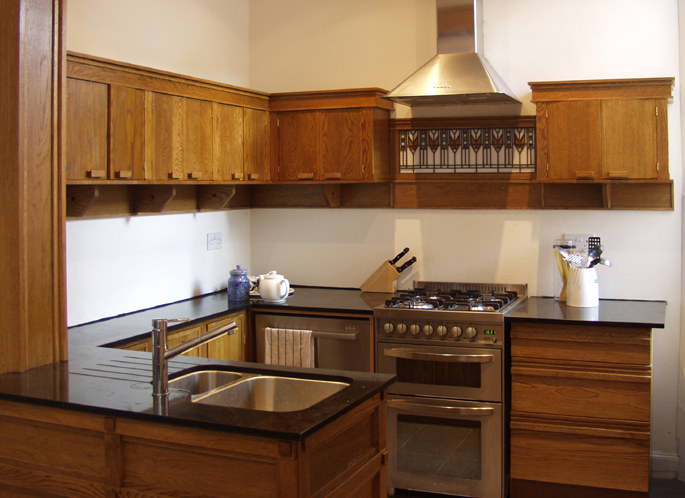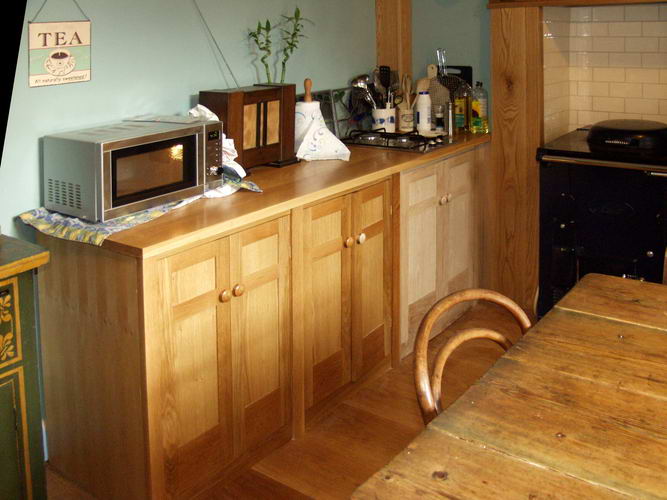 It's early days in our kitchen making. The Arts & Crafts Edwardian kitchen is a "work in progress". Its my own kitchen. Now nearing completion, there will be an Open Kitchen Day in the south side of Glasgow in 2010. If you wish to be invited, please email mail. In this instance, all the kitchen units, furniture and worksurfaces (even the floorboards and tiles) were handmade, making the project time consuming and expensive. So much so, that we were thinking of restricting our orders to one kitchen a year. However, we can build kitchens that are less expensive (but still gorgeous) around factory-made units. Such is the kitchen at the top of the page. Inspired by Frank Lloyd Wright.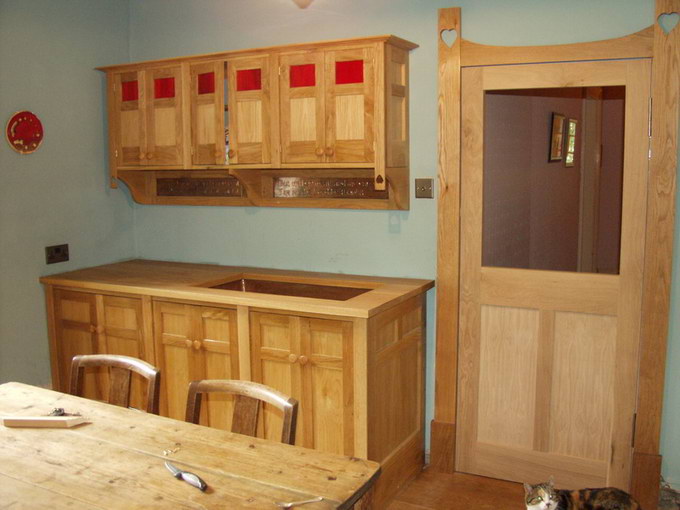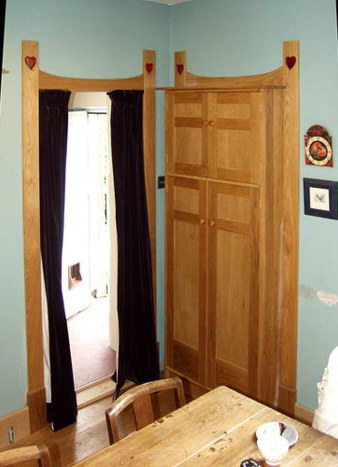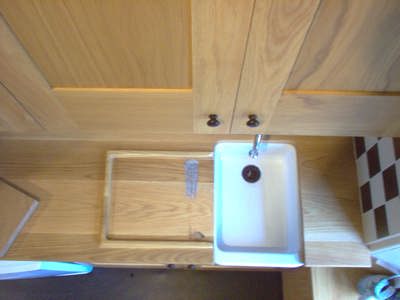 The kitchen to the right is another example of a kitchen where the existing units were kept, while new doors and work surfaces were added. I was most pleased with the draining board (see the top of the page). Every timber kitchen work surface I have seen has a series of grooves cut into the wood to help the water drain into the sink. But there is no or little slope to the wood which constitutes this "draining board". The result is poor drainage and grooves that turn black with mould and dirt. Our own design was complicated to make. And an error caused two small areas of damage. However, these were repaired and the repair hidden by a painted jellyfish and fish.

This room divider was designed to screen a dining area. This is where the true high-handedness of Arts and Crafts design can be seen: fitted furniture and architectural joinery that literally imprisons the customer. There is a story that Charles Rennie Mackintosh was displeased with Mrs Blackie's choice of flowers for her hall table at Hill House in Helensburgh. At Samson's Joinery we are nowhere nearly so tyrannical, although I am compelled to forbid hyacinths.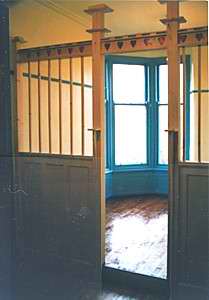 Below are more drawings and a few photographs of bits of other kitchens we have made over the years, such as the Gothic kitchen we fitted. The fine carved doors were reclaimed from a church. But the cover to hide the boiler was completely built by us. The dressers here are slightly more traditional fin de siècle than the new designs above.