Cabinets and Sideboards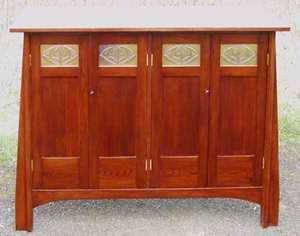 Cabinets and sideboards now represent the most successful type of furniture we make. I have hit upon a design that seems to be very popular. Once seen, our customers often feel the overwhelming desire to own one. Indeed, I had one designed for my own home (not that I had any real need for a sideboard), but it was sold at the Cheltenham Celebration of Craftsmanship and Design exhibition last August. Another was made recently to replace it, and it sat in my dining room for a week before being sold. Despite making eleven so far, no two cabinets, alas, have been the same. Each varies in size, colour and type of panel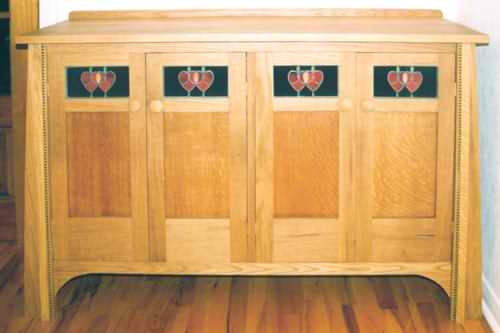 (copper, pewter, glass), even the timber is not always our standard oak. This one here is the sideboard that started it all a few years ago.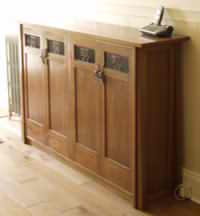 The intertwining hearts have been used a few times. Unusually, in this case the cabinet no longer has legs and sits directly on the ground. A recent variation on these cabinets was one to be used as a sink stand. The price of these sideboards varies from £1200 to £2500. The variation of the price depends on whether you are an existing customer, how far we have to travel to deliver, whether the piece is solid oak from top to bottom (veneered ply and veneered MDF help reduce the price), and the finish you desire (a natural colour, oiled finish is cheaper than an antique stained, varnished and waxed finish).
The copper panels depict four Pictish "symbols" from stones found in Scotland. The Picts and their stones roughly date to the sixth, seventh, eighth and ninth centuries AD and as an archaeologist some fifteen years ago I wrote an article on my theory of the meaning of the symbols.