Our makers
The cabinet makers who have made cabinets for Samson's Joinery in the past year, in no particular order (except age): Stevie Mackenzie, Billy Graham, me (Ross), Andy, Peter, and Steven Pattison.
This is my good self outside the Gamble House in Pasedena, California (only a few miles from where I was born) designed by the Greene brothers. CRM eat your heart out. Below is Steven Pattison next to the oak door that proved making furniture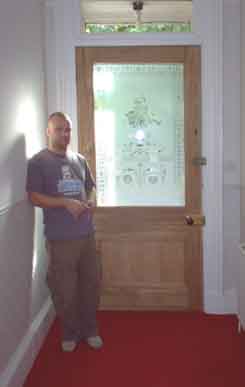 does not relieve stress. Alas, he will leave us soon to become an accountant.
Hey, that's me again in the shocking shirt. Stevie Mackenzie is more soberly attired in denim.
You may recognise him from the sillouette he played of a carpenter building a gibbet in Co Loisg Air? shown twice on BBC2. Just one piece of our furniture used in television. In Taggart, a woman was shot just behind our occasional table.
Steven Mackenzie appears again at the bottom next to one of the many bookcases he has built over the years. Not surprisingly, he is dressed again in blue. Stevie never wears green. But immediately below is Billy Graham, an evangelist only when it comes to recycling. He will not throw out anything, no matter how small or seemingly useless.
I get in this photograph of one of our best pieces of furniture as the designer (I may have given the sideboard a coat of oil too).
Photographs of the other rogues will be added in the near future!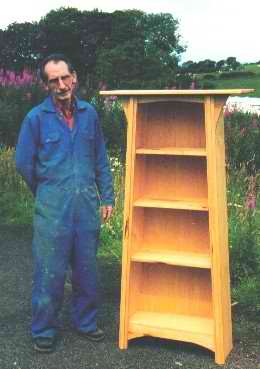 But I cannot leave without mentioning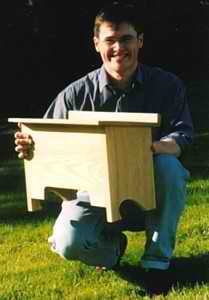 Graeme, although he hasn't been with us for a few years. Believe it or not, that grin of his is natural.