Commissioning furniture
For what to expect when commissioning furniture from other cabinet makers, visit the Scottish Furniture Makers Association website (link is to the left) and click on commissioning.
At Samson's Joinery, a meeting and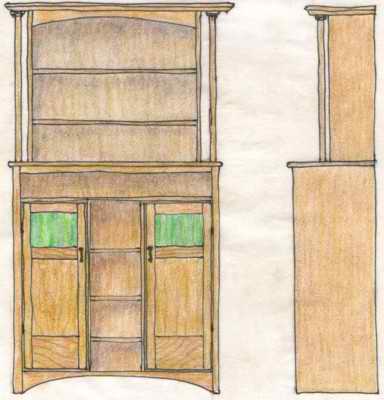 discussion and estimate are all free. However, if drawings are required before a commission can go ahead, there is an advance deposit of £50 (this is non-refundable if the project does not go ahead).
Once agreed and a commission is placed, a deposit is required (this is usually £200, although it will be more if the estimated price is in excess of a thousand pounds). Should you later change your mind, part of this deposit may be returned depending on the stage of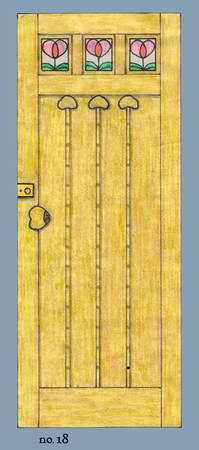 building we have reached.
The bookcase designed above was never made; the clients "changed their mind" about how they would organise their flat. The worst experience of this sort came when a woman in Cumbria wanted an entire Arts and Crafts house, destined to be a bed and breakfast, filled with beds, bedside tables, and a stained glass window all to be designed by us but decided to spend the money on a new roof instead just after the drawings arrived.
This sketch of the doors was similarly cancelled when "roof repairs" were invoked (a euphemism, presumably, for having got cold feet). Fortunately, it was such a fine design that someone else opted for it. Indeed, it is to be seen at the Home Building and Renovation Show at the SECC in May.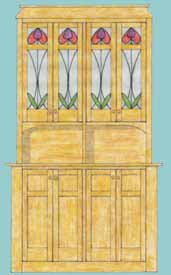 This drawing of a bookcase similarly never materialised into the real thing. But there is no real reason to show you it, except that I like it. And if that is a good enough reason to show you the bookcase, perhaps I can show you this bit of a kitchen to demonstrate how my presentation drawings have developed over the last few years. With the purchase of a top of the range image editor, I have started to tweek and twiddle not just drawings but photographs as well.