Architectural joinery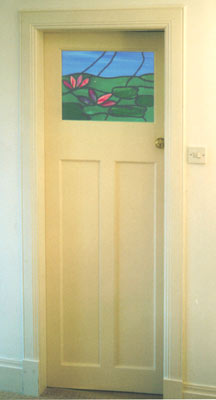 Most of our doors are made for older properties, whose beautiful original front door has been replaced by some uPVC monstrosity, or they are internal doors for conversions and extensions. This page only gives a taste of what our doors might look like. However, we also make hundreds of doors for our furniture, so if you wish to see some more fanciful creations, see our wardrobes and bookcases.
Right is a painted pine door we made for a new bathroom. The waterlily motif seemed appropriate for the "water closet". Otherwise, fish and other sea creatures seem to hold sway in the loo. Below left is an example of the only remaining original door in the street, while on the right is our rendition. Because we are so strangely committed to our craft, we can offer you glass that is either acid etched or sand blasted. The results look very similar, but … oh, okay, you don't want to know.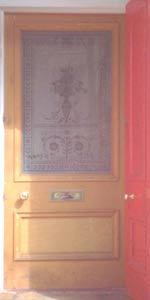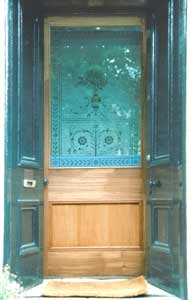 Anyway, that's all I plan to say about doors. If you wish to see more, click left on doors at you will be whisked off to our latest website: www.scottishdoors.co.uk.
Under the heading architectural joinery, we also make skirtings and facings and staircases and stair parts. We have even built exterior corbels for under the roof facia. But these bits and pieces are not particularly photogenic. More interesting have been our bannisters and room dividers. Below are both drawings submitted to customers and the real things.