Links
Scottish Furniture Makers Association. Forty or more cabinet-makers based in Scotland are members. Three or four times a year the association holds exhibitions in different parts of Scotland, sometimes as a stand within larger exhibitions (e.g. the Scottish Woodfair at Perth in May). For the last two years the association has held a three-week exhibition in Ediburgh at St Johns church on Princes Street (at the corner of Lothian Road, during the Ediburgh Festival. It costs £2 to enter, but the furniture on show is all absolutely the latest, never seen before. Most of the makers accept commissions.
The Arts and Crafts Home the business website of Mark Golding, based in Brighton. He sells just about every new commercial item of Arts and Crafts furnishing there is, from tiles and wallpaper to carpets, cutlery and furniture. In addition, the website provides links to antiques dealers to buy from, hotels to stay, places to visit, societies to join, books to read . . . .
The Arts and Crafts Society (USA)
Tokerahi House, New Zealand
Watts Chapel
, Compton, Surrey. Frederick Watts was a famous and successful late Victorian painter. His studio has been preserved as the Watts Gallery. His wife, Mary Watts, had a neo-Byzantine Art Nouveau chapel built for him, largely using the labour of local residents who attended her Arts and Crafts pottery workshop.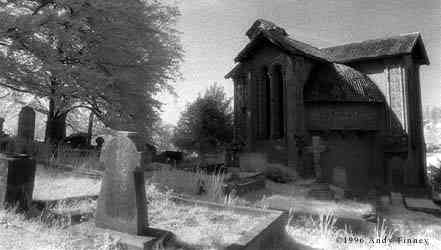 Originally from Scotland, she also produced ceramic tombstones and garden paraphernalia based on medieval Celtic art, commercially, and Celtic inspired designs for Liberty carpets that were then handwoven in Donnegal. This photograph, pinched from the photographer Andrew Finney, of the chapel was too gorgeous to pass up although it does not do justice to the Art Nouveau influences, including the almost Glasgow " Spook School" style of the figures.